The Specialist In Oil To Gas Conversion In Bergen County NJ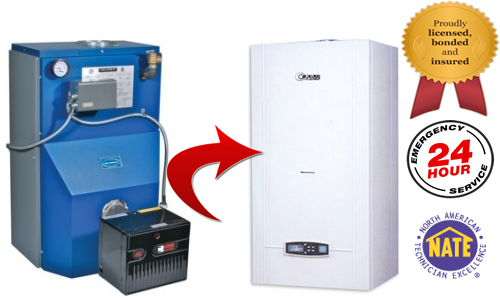 Many older homes in Bergen County have an oil boiler or furnace installed for heating. While oil heating made sense some years ago, today the cost of oil is higher than ever before. An oil to gas conversion for your Bergen, NJ home may be able to save you a significant amount on your annual heating bill, and we'll do it for you.
For years we have offered comprehensive heating services throughout Bergen, including oil to gas conversion. We can convert existent boilers or furnaces or we can install a new heating system and convert your existing components to gas from oil. This includes installation of a new chimney liner, replacement of any key components on your HVAC system and installation of gas lines and ventilation systems for safe operation.
Why Switch from Oil to Gas?
There are many benefits to switching to gas from oil if you live in Bergen, NJ To start, oil can be very messy due to leaks. With gas, that will never again be a problem. Gas is also generally less expensive right now than oil with costs continuing to level out or even drop. At the same time oil costs only continue to increase.
Gas burns cleaner as well, especially with a newer high AFUE gas furnace that emits far less CO2 than an oil furnace or boiler. Combined with better efficiency, a cleaner burn, and no need for tank refills every winter, gas is generally more convenient than oil as well. It's no wonder so many of our customers are making the switch.
Are You Ready to Switch to Gas?
If you are ready to make the move and replace your oil burning furnace or boiler with a gas alternative, contact us. We can setup a time to visit your home and provide an estimate and time frame for removal of your existing boiler or furnace and the conversion process. Call today to learn more and to get started.